6604010E NOTES:

The M10x1.0 kit p/n 6604010E tooling works very well in holes 6" deep or more.
This tooling will repair spark plugs that are fully threaded or
a half threaded plugs used in Honda as in the NGK spark plugs p/n CR9EHIX-9,
IMR9B-9H or IMR9d-9h which has a straight section between the threads and washer.

There are 2 movable collars included, the long black collar will repair full thread
spark plugs which are flush to the surface and the silver collar will create a
special countersink step required for the CR9EHIX-9 Honda style spark plugs.

Inserts not included order separately.

If repairing the CR9EHIX-9 or IMR9d9h, IMR9B-9H style plugs
that are pictured below use the 9mm length insert p/n 66140101
You will use the Silver collar to create the countersink step as per the instruction.

M10x1.0 extended p/n 6604010E INSTRUCTIONS
These instructions are specific to the 6604010E only.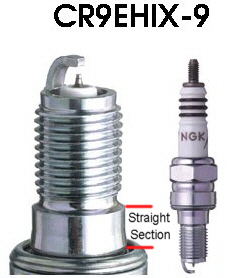 We must countersink for this straight section using the silver collar and insert p/n 66140101

Tooling length inches: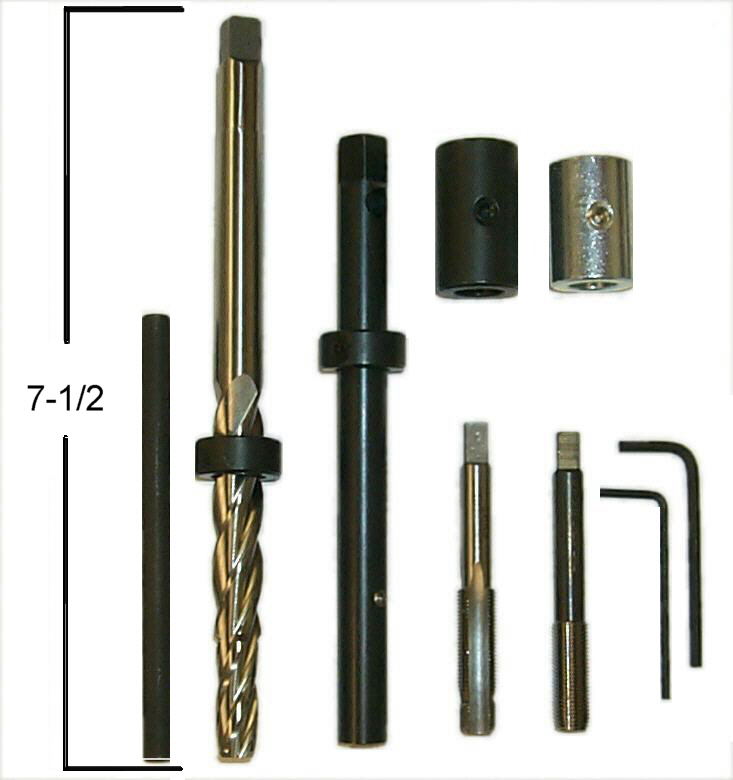 Spark plug thread repair for special Honda style spark plug applications.

HONDA 1990 VFR750R RC30
HONDA 1990-1988 NX250
HONDA 1994 RVF750R
HONDA 1994-1991 CBR600F2
HONDA 1996 CBR600SJR
HONDA 1997-1990 VFR750F
HONDA 1998 CBR600SE
HONDA 1998-1995 CBR600F3
HONDA 1999-1993 CBR900RR
HONDA 2000-1997 CBR1100XX
HONDA 2000-1999 CBR600F4
HONDA 2001-1998 VFR800FI INTERCEPTOR
HONDA 2001-2000 CBR929RR
HONDA 2004 599- 600
HONDA 2004-1996 XR250R
HONDA 2006-2004 CB600F
HONDA Aqua Trax F-12 2007-2002 125 hp (1235 Engine Class)
HONDA Aqua Trax F-12x 2007-2002 165 hp (1235 Engine Class)
HONDA AQUATRAX R-12 ARX1200N 2007-2002 125 hp (1200 Engine Class)
HONDA AQUATRAX R-12X ARX1200T 2007-2002 165 hp (1200 Engine Class)